Let's delve into an unusual case study that illuminates the murky world of online casino scams. Picture 'Digital Delights,' a glossy online casino with flashy graphics and a seemingly endless array of slot games. It promises a hefty welcome bonus that catches your eye. On signing up, you deposit a sizeable amount, eager to avail of the bountiful bonus. Yet, weeks pass, and there's no sign of it. You reach out to customer support, but the responses are evasive. Suddenly, your withdrawal requests start getting delayed or, worse, completely ignored. 'Digital Delights' isn't as delightful as it initially seemed. This scenario represents a classic example of a scam online casino.
Your heart might race as you read this, a pang of anxiety flaring at the thought of encountering such a situation. Rest assured, though, there are telltale signs that can help you spot and avoid falling into such a trap. The first red flag? The overly generous bonus that 'Digital Delights' offered. Sure, bonuses are commonplace in online casinos, but if the offer sounds too good to be true, it probably is. Legitimate casinos have transparent terms and conditions attached to their bonuses. Scam sites, on the other hand, often use grandiose bonuses to lure unsuspecting players, only to make it impossible to actually claim them.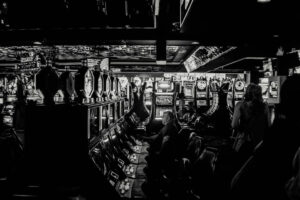 Then there's the issue of licensing. Every reputable online casino operating in the UK must be licensed by the UK Gambling Commission. It's your assurance, your safeguard that the casino operates under stringent regulations. A quick visit to the commission's website can confirm if a casino is indeed licensed. Had you checked, you would've found that 'Digital Delights' was conspicuously absent from the commission's register.
Remember the elusive customer support at 'Digital Delights'? That's another crucial pointer. Legitimate online casinos pride themselves on providing excellent customer service. Be it through live chat, email, or phone, they ensure that help is available whenever you need it. If a casino's customer service is consistently unresponsive or unhelpful, consider it a glaring warning sign.
Pay attention to the payment methods a casino offers. Trusted casinos ensure they provide secure, widely recognised payment options. If a casino pushes for a specific, less-known payment method, particularly if it's untraceable like certain cryptocurrencies, take a step back. You might just be stepping onto shaky ground.
Online casino scams, though menacing, are not unbeatable. Equip yourself with knowledge and watchfulness, and you can effortlessly navigate through the thrilling landscape of online slots without falling prey to any deceptions. To further illustrate, let's break down the key aspects you should pay attention to:
Bonus Offers
While bonuses are a staple of online casinos, excessively generous offers can be a warning sign. Bonuses that are too good to be true often come with hidden, almost impossible-to-meet conditions. Always check the terms and conditions attached to any bonus.
| Normal Bonus | Suspiciously High Bonus |
| --- | --- |
| £100 or 100% match | £1000 or 500% match |
Licensing
A casino's license is your assurance of its legitimacy. In the UK, online casinos must be licensed by the UK Gambling Commission. Check their public register to verify a casino's license.
| Legitimate Casino | Unlicensed Casino |
| --- | --- |
| Listed on the UKGC public register | Not listed on the UKGC public register |
Customer Support
Quality customer service is the mark of a reliable casino. A casino should offer multiple channels of communication and be responsive and helpful.
| Responsive Customer Support | Unresponsive Customer Support |
| --- | --- |
| Responds within a few hours or less | Takes days to respond or doesn't respond at all |
Payment Methods
Secure, recognised payment methods are essential. Be wary of casinos that push for specific, lesser-known, or untraceable payment methods.
| Safe Payment Methods | Potentially Risky Payment Methods |
| --- | --- |
| Visa, MasterCard, PayPal, Bank Transfer | Unknown e-wallets, Untraceable cryptocurrencies |
Navigating the world of online slots is no less thrilling than the games themselves. It's a dance of excitement and caution, where every step could lead to exhilarating highs or sobering lows. Knowledge, vigilance, and a healthy respect for the risks involved are your trusted companions on this journey.
Scams like 'Digital Delights' may cast a shadow over the online slots landscape, but by focusing on the signs and indicators we've discussed, you can dodge these pitfalls with ease. The power is in your hands to ensure your gaming experience remains fun, fair, and secure.
Frequently Asked Questions
1. Q: How can I verify if an online casino is licensed?
A: You can verify an online casino's license by checking the licensing authority's public register. For instance, if a casino claims to be licensed by the UK Gambling Commission, you can confirm this by checking the UKGC's online public register.
2. Q: What are the typical bonuses offered by online casinos?
A: The most common bonuses offered by online casinos include welcome bonuses (usually matching your initial deposit up to a certain amount), no-deposit bonuses, free spins, and loyalty or VIP rewards.
3. Q: How can I be sure that an online casino's games are fair?
A: Reputable online casinos use Random Number Generator (RNG) technology to ensure that all games are fair and outcomes are entirely random. Furthermore, many casinos have their games audited by third-party agencies for fairness.
4. Q: What should I do if a casino refuses to pay out my winnings?
A: First, check the casino's terms and conditions to ensure you've met all the requirements for a payout. If you've met all conditions and they still refuse to pay, you can file a complaint with the casino's licensing authority, such as the UK Gambling Commission for UK-based casinos.
5. Q: How can I avoid falling for an online casino scam?
A: Be vigilant about the signs of a scam: overly generous bonuses, lack of a valid license, unresponsive or unhelpful customer service, and insistence on specific, less-known, or untraceable payment methods. Always research an online casino thoroughly before depositing any money.
6. Q: Is my personal information safe with online casinos?
A: Legitimate online casinos employ advanced security measures, such as SSL encryption, to protect your personal and financial information. However, always read the casino's privacy policy to understand how your information will be used.
7. Q: Are there any limits to how much I can win at an online casino?
A: Casinos typically have withdrawal limits, which restrict how much money you can withdraw within a certain timeframe. However, there are usually no limits on how much you can win. High withdrawal limits or no limits are generally a positive sign when evaluating an online casino.
Online slot gaming is a world ripe with exhilaration and potential rewards, but it also comes with its share of risks. By understanding and capitalising on casino bonuses and promotions, and by being diligent in spotting and avoiding potential scams, you can embrace this thrilling world with confidence. You are not merely a player, but a knowledgeable participant in this ever-evolving landscape. So, as you embark on your next online slots adventure, remember these insights and strategies. They are your guiding light, illuminating your path towards a safe and enjoyable online casino experience.
Online scams are undoubtedly daunting, but they're not insurmountable. With knowledge, vigilance, and a keen eye, you can ensure your online slots adventure remains both fun and safe. While the case of 'Digital Delights' serves as a sobering reminder of the perils lurking in the digital shadows, it also illustrates how you can effectively navigate your way around them. So, armed with this newfound insight, go forth and explore the virtual world of online casinos with both confidence and caution.